ThinSlim Foods Almond Square
Our classic flavor with subtle hints of almond!
ThinSlim Foods almond squares have a light almond taste very similar to our vanilla muffins.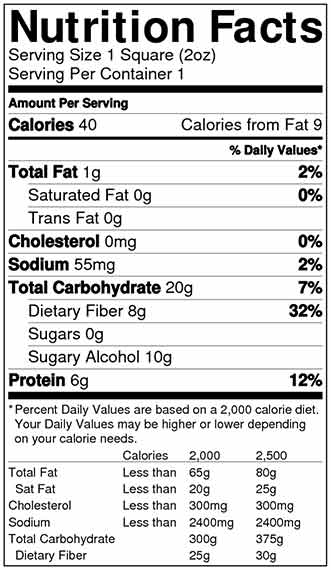 Ingredients:
oat fiber, erythritol, egg whites, inulin, almond meal, modified corn starch, purified water, olive oil, xanthan gum, guar gum, leavening (monocalcium phosphate, baking soda), natural flavors.
Allergens:
Contains almonds and eggs. Baked in a dedicated gluten free facility that uses peanuts, tree nuts, eggs, and dairy.
Storage:
Refrigerate 2-3 days, freeze 6 months.
Kosher:
Not certified kosher. Certification expected by early 2018.
Nutritional Lab Testing:
The nutritional information for this product has been independently lab tested
More About ThinSlim Foods:For more information on what makes ThinSlim Foods products so amazing,
Click Here