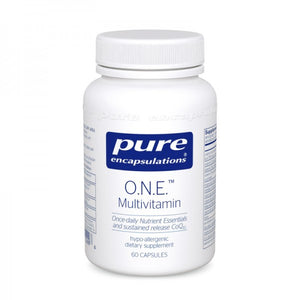 O.N.E. Multivitamin
Once-daily nutrient essentials with sustained-release CoQ10
 Certified Gluten-Free by the Gluten-Free Certification Organization, www.gluten.org‡
Once-daily multivitamin with sustained-release CoQ10
Provides vitamins A, B, C, D and E in highly bioavailable forms‡
Made with hypoallergenic, vegetarian ingredients
O.N.E™ Multivitamin provides vitamins, minerals and other essential nutrients to provide a comprehensive once-daily multivitamin for both men and women. O.N.E multivitamin specifically provides antioxidant support as well as promotes cellular and optical health.‡
Once-daily nutrient essentials with sustained-release CoQ10
Indications:
Men and women age 18 and over
Vitamin Distinctions:
Provides vitamins A, B, C, D and E in highly bioavailable forms
Includes Metafolin®

 

L-5-methyltetrahydrofolate (L-5-MTHF), the naturally occurring, universally metabolized form of folate
Special Features:
Convenient one-capsule-per-day dosing
Antioxidant complex includes alpha lipoic acid and a blend of CoQ10

 

and sustained-release water-soluble nanosized MicroActive®

 

Q10
Choline and inositol for healthy cognitive function‡
Supports cellular health with 500 mcg lycopene and 50 mcg (2,000 IU) vitamin D‡
Helps maintain macular and retinal health with 3 mg lutein and 500 mcg zeaxanthin‡
‡These statements have not been evaluated by the Food & Drug Administration. These products are not intended to diagnose, treat, cure or prevent any disease.
The information contained herein is for informational purposes only and does not establish a doctor-patient relationship. These therapies are not substitutes for standard medical care. Consult your physician before taking this or any other product.