Lindas Diet Delites Low Carb Croutons Seasoned
These delicious croutons are brought to you in collaboration with Lindas Diet Delites (our partner company) and crafted using the ThinSlim Foods Love-the-Taste Bread.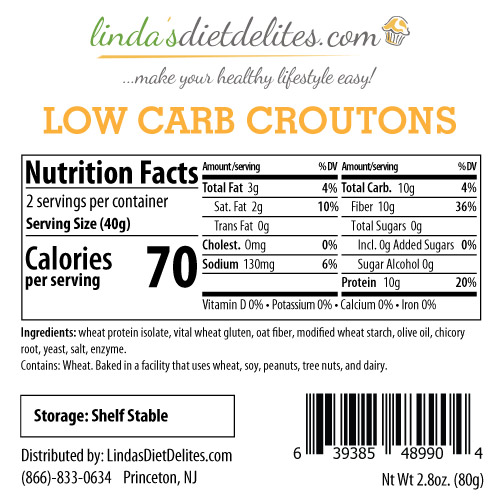 Enjoy these low carb and calorie croutons as a standalone snack or to top your salad.
Ingredients:
wheat protein isolate, vital wheat gluten, oat fiber, modified wheat starch, almond flour, flax seed meal, olive oil, chicory root, high protein patent flour, apple cider vinegar, yeast, salt, stevia. Topping:monosodium glutamate, salt, garlic powder, onion powder, and other spices
Allergens:
Contains wheat. Baked in a facility that uses wheat, soy, peanuts, tree nuts, eggs, and dairy.
Kosher:
Not certified kosher. Certification expected by early 2018.
Nutritional Lab Testing:
The nutritional information for the bread used as the base of this product has been lab tested.
More About ThinSlim Foods:For more information on what makes ThinSlim Foods products so amazing,
Click Here