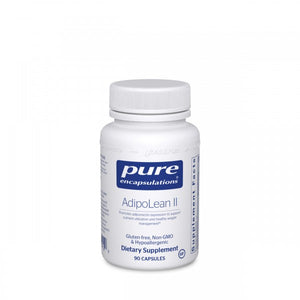 AdipoLean II
AdipoLean II 90's
Supports healthy weight management† and maintains healthy abdominal circumference‡ 
Visit www.PureLean.com and use the Supplement Selector to discover your PureLean® personalized supplement protocol.‡
 Certified Gluten-Free by the Gluten-Free Certification Organization, www.gluten.org‡
Supports healthy weight management†‡
Helps maintain a healthy abdominal circumference‡
Made with green tea leaf extract and other plant-based ingredients
Made with hypoallergenic, vegetarian ingredients
AdipoLean II promotes weight management† by helping maintain a healthy visceral fat composition. Find the support you need for healthy weight loss with Pure Encapsulations AdipoLean II.‡
Supports healthy weight management
†
and maintains healthy abdominal circumference
‡
AdipoLean II offers a combination of the clinically researched LOWAT
®
blend of Ayurvedic herbal extracts combined with Oligonol
®
, a lychee and green tea complex containing low molecular weight polyphenols for enhanced efficacy. Research indicates that both LOWAT
®
and Oligonol
®
help maintain healthy adiponectin expression, offering support for healthy insulin function, glucose uptake and fat utilization. LOWAT
®
(LI10903F) is a proprietary blend of
Piper betle
leaf extract and
Dolichos biflorus
seed extract combined in a specific ratio. Both herbs have been traditionally used to support healthy glucose metabolism and lipid metabolism. In vitro and animal research determined that this combination and ratio provided maximal efficacy. Research indicates that LOWAT
®
targets fat breakdown and helps maintain healthy weight management, at least in part due to boosting adiponectin and moderating ghrelin production. In an 8-week, randomized, double-blind, placebo-controlled trial involving 50 overweight subjects following a standard 2,000 calorie per day diet, supplementation with 300 mg of the LOWAT
®
blend, three times daily, promoted healthy lean mass ratio and an average weight loss of 9.4 pounds compared to 3.9 pounds in the placebo group (p=0.00005). Supplementation also resulted in an increase in serum adiponectin levels by 15.35% (p=0.0076) and a decrease in serum ghrelin levels by 20.85% (p=0.0066). Ghrelin is a peptide hormone associated with appetite. The mechanisms of action for Oligonol
®
include support for healthy insulin function, adiponectin synthesis and lipolysis. In a double-blind, placebo-controlled study involving 19 individuals, Oligonol
®
supported healthy visceral fat composition.
‡
‡

These statements have not been evaluated by the Food & Drug
Administration. These products are not intended to diagnose, treat, cure or prevent any disease.
The information contained herein is for informational purposes only and does not establish a doctor-patient relationship. These therapies are not substitutes for standard medical care. Consult your physician before taking this or any other product.