Posted by Michael Muniz on
This is something that I have been wondering myself lately. I have heard of resistant starches for some time now. I first heard about them in 2016 when I was first starting my weight loss journey. I remember hearing of people cooking potatoes and then chilling them for at least 2 hours to recrystallize the starches and making them resistant. This was amazing to see a resistant starch in a food that I love and miss called potatoes.  What types of resistant starches are there? There are 4 types of resistant starches that are out there. There maybe more but...
Posted by Michael Muniz on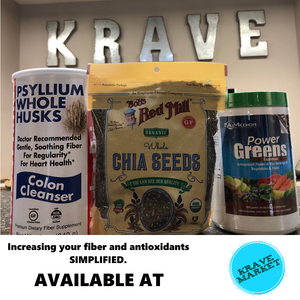 Are You Getting Enough Fiber? One thing I look at when reviewing a person's nutrition is their fiber consumption. Many people following popular diets or nutrition lifestyles such as ketogenic, Atkins, or low carb,  are usually not consuming enough fiber. Another thing that is often lacking in these diets is the consumption of a variety of vegetables and fruits. Don't get me wrong, several fruits and vegetables can cause issues with sugar and insulin spikes but not all the time. We want to eat plenty of fiber and even increase fiber to bind to the excess sugars that we consume. One easy and convenient way I increase my fiber intake is having a tablespoon of 100%...
Tags:

Crave Market, Fiber, Glucometer, Glucose, Keto, Keto Mojo, Ketogenic, Ketones, Krave Market, pH, Power Greens, Psyllium, saliva, Salivary pH